Enclosed Platform Lifts
The Optimum 100c enclosed platform lift is a high quality, reliable, chain driven vertical platform lift that is supplied complete with its own small footprint enclosure. Now with a warranty of 12 months parts and labour, 5 years on motor and gearbox and 10 years on drive chains. This is a self-supporting enclosed platform lift which will enhance the value of any building. Installation costs on platform lifts are kept to a minimum ensuring excellent value with a low ownership cost. This enclosed access lift prioritises both safety and aesthetics during the designing process.
Request a Quote
Standard Features
Options
Installation
Gallery
Downloads
Case Studies
Standard Features
The unit is compliant with Part M of the Building Regulations and has the following features as standard:
15 metres maximum travel
Serves up to 6 floors
1250mm x 1560mm footprint
1120mm x 1480mm platform
60mm deep pit
Flexible door arrangements
0.15 metres/sec travel speed
Code compliance EN81-41, Part M and MD2006/42/EC
240v (single phase 16 amp)

Energy efficient drive system

Hidden door hinges
Longevity – expected chain life of 25 years if properly maintained
Easy to use
Speedy installation
500kg capacity
Warranty – 12 months parts and labour, 5 years on motor and gearbox and 10 years on drive chains
Also available for external installation – see the Optimum 150 External Platform Lift for details.
Not quite what you're looking for? Try our Lift Finder tool here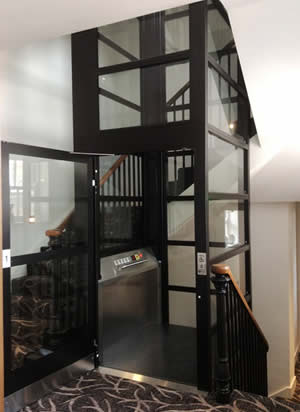 This vertical platform lift has available the following options:
Choice of door design including fire doors

Managed usage

Glazing to every side
Doors in a range of RAL colours to assist the visually impaired
Contrasting colour and braille buttons
Communications devices
Ramp if pit not available
Hidden door closers

Fully automated doors

Managed use – a range of security key systems
Available Sizes of the Optimum 100 Vertical Platform Lift
| | |
| --- | --- |
| Platform Size | Vertical Hole |
| 1020×1480 | 1180×1590 |
| 1020×1680 | 1180×1790 |
| 1120×1480 (standard size) | 1280×1590 |
| 1120×1680 | 1280×1790 |
| 1220×1480 | 1380×1590 |
| 1220×1680 | 1380×1790 |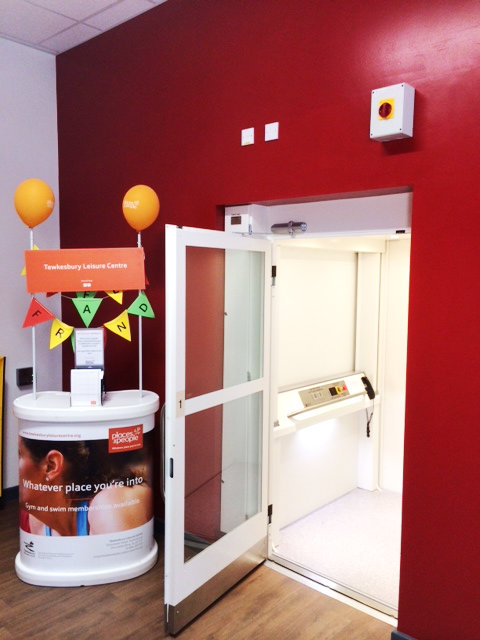 Installation of the Optimum 100
The Optimum 100 vertical platform lift requires little in the way of building works with a 60mm deep pit, a 1600mm x 1300mm vertical hole through the building and a 16 amp power supply to the top floor being the only necessities for most lift installations to be carried out.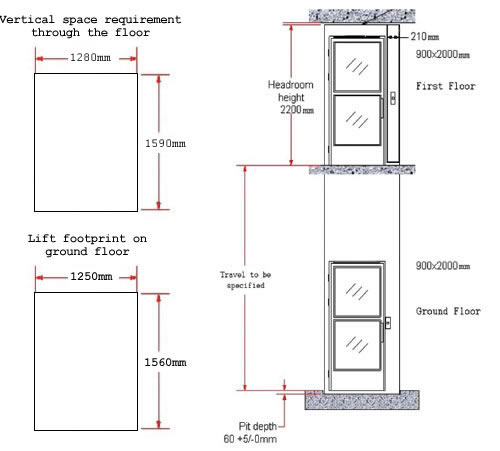 Gallery
Please click on the thumbnails to view the images below. You can use the cursor keys to navigate.
Vertical Platform Lifts
The need of the less able to circulate within multi floor buildings has of course always been very important. But with the disabled discrimination act (DDA) and the later Equality Act it is also a legal requirement. Vertical platform lifts provide a very simple and economical way of fulfilling this requirement. Built within an enclosed structure a vertical platform lift can be installed into the very tightest of spaces thus providing a fast and economical solution.
Enclosed Wheelchair Lifts
Our enclosed wheelchair lifts are ideal for a wide range of settings. Available in several size options the Optimum 100 vertical platform lifts offer everything you would expect from a high quality enclosed wheelchair lift.
We can tailor any lift to your specific needs; including a range of door designs, communications devices, operating buttons and ramps. With the ability to travel up to 15 metres, serving 6 floors, these lifts are ideal for office buildings, sports centres and hotels. Providing there is a suitable space to install one of our lifts, they can be used in almost any environment. Check out our range to see what we can offer.
If you need help from our experts or wish to request a quote, don't hesitate to call or email today.