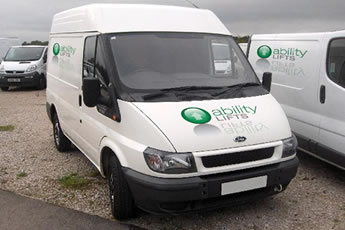 Lift Servicing
At Ability Lifts, we supply, install and maintain platform and access lifts internally and externally for a range of different buildings. Our platform lift servicing can be modified to suit a range of requirements. Choose one of our vertical, inclined or short rise access lift and we can help every step of the way from choosing a lift to keeping it properly serviced. We understand the importance of customer satisfaction and we are proud to be known for offering a high-quality, customer focused service, on everything we do. Speak to our experts about our lift servicing today!
We have a wide range of access lift solutions to suit several needs and requirements. View our extensive range of platform lifts available to find one suitable for you.
Installation Process
Once your platform lift has been installed, it needs to be properly maintained. To make things easy for you, we offer a nationwide service to keep your platform lift working at its full potential.
We only hire the best service engineers and make sure they fully qualified and have plenty of experience to carry out services to the highest of standards; they will aim to attend to your call within 24 hours.
Our Servicing Contracts
Here at Ability Lifts, we offer three different types of service contracts to suit everyone's needs and requirements. We aim to make our services convenient for all customers – it's for this reason that our working times are flexible, in order to fit around you. All of our servicing contracts also offer a next working day response.
Although, our basic service contract covers everything needed to ensure that your warranty is up to date, we recommend investing in our fully comprehensive service contract; this is to save you from any unexpected expenses – just in case something was to ever go wrong.
All of our contracts are on-going and you will be billed in advance at the start of each 12 month period. We have a 3 month cancellation policy, which can be from either party.
Basic Service Contract
Our basic service contract option entitles you to:
Two visits per year
Lubricants and cleaning materials.
Please note – all call outs and repairs are chargeable for both parts and labour unless covered by warranty.
Fully Comprehensive Service Contract
Our fully comprehensive service contract is our premium type of cover and the one we recommend the most, as it includes:
Four visits per year
All parts and labour including motor/gearbox/suspension chains.
Please note: work completed outside of normal working hours will be charged at the premium rate.
Additional Services
Delivery – We will deliver your passenger lift, platform lift or stair lift at time that suit you. Our delivery vehicles are equipped with all of the necessary equipment, so we do not involve you with additional labour.
Installation – All of our installation teams are certified to the required safety standards. They work alongside other trades, are fully qualified, and carry the necessary certification cards to ensure we provide the best customer experience.
Engineering – We have expertly, trained engineers who understand the problem experienced by developers, so therefore work with you to ensure our product will meet your requirements. The whole process is a joint effort to achieve the perfect delivery and installation with the least disruption possible.
Contact Us
We take pride in being platform lift specialists. Feel free to contact us if you have any questions, are interested in a quote or simply would like some advice – call us on 0204 571 3357. You can also visit our contact page and fill out our online form and one of our expert advisors will be in touch to begin discussing your requirements.
Alternatively, use our easy to use lift finder tool here to search for your perfect access lift! We have many different lifts available including home lifts and goods lifts for personal and domestic use. Our most popular lifts include the Optimum 100 Enclosed Platform Lift and the Optimum 200 Stair lift.