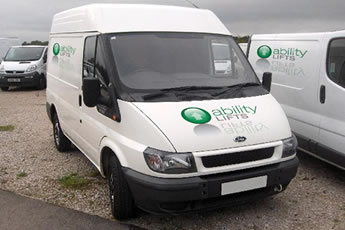 Our Platform Lift Delivery Service
At Ability Lifts, we supply and install platform and access lifts internally and externally for buildings of all sizes. Our platform lift delivery and installation service can be modified to suit a range of requirements. If you choose a vertical, inclined or short rise access lift, we can help every step of the way. Customer satisfaction is important to us and we are proud to be known for offering a high-quality, customer focused service, on everything we do.
We have a wide range of access lift solutions to suit several needs and requirements. View our extensive range of platform lifts available to find one suitable for you.
Delivery Process
Our delivery service is an efficient and customer-focused process. We deliver at a time and date that suits you. Whether this is early in the morning or after the working day, we aim to minimise disruption to your business. Our platform lifts are suited to modern production processes, so they are flexible and easy to install.
All in all, this means short delivery times and low costs. Very little space is needed, which includes the use of machinery required to install the lift. Our platform lifts make the maximum use of platform size and door opening.
Our Efficiency Vision
Our delivery vehicles are equipped with the necessary equipment for an efficient, professional installation. We ensure that our customer is not involved in additional labour.
We aim for a quick material supply of 6-8 weeks, or even less, after drawing approval has been given.
Installation of between 1 and 3 days is achievable for most of our platform lifts, stair lifts and passenger lifts.
Over the years, we have delivered and installed access lifts in several different environments, from schools to hospitals. Take a look at our case studies to see our existing clients and read about some of the places where we have delivered and installed lifts. We have previously installed an Optimum 100 enclosed platform lift at the Great Western Studios in Notting Hill, view our case studies here.
Our Additional Services
Installation – All of our installation teams are certified to the required safety standards. They work alongside other trades, are fully qualified, and carry the necessary certification cards. We understand the importance of customer satisfaction, so we make sure our team will provide the best service.
Engineering – We have trained engineers who understand the problems experienced by the developer, and work with them to ensure our product will meet their requirements. The specification is a joint effort to achieve the optimum installation with the least disruption possible.
Servicing – Once the unit is installed, it needs to be serviced and maintained. We have a nationwide service available and would love to welcome the opportunity of looking after your platform lift.
Contact us
We pride ourselves on being platform lift specialists. Please contact us if you have any questions, are interested in a quote or would like some advice – call us on 0292 168 3207. Or, fill out our online form on our contact page and one of our expert advisors will be in touch to begin discussing your requirements.
Alternatively, use our unique lift finder tool here to search for your perfect lift! We have many different platform lifts available including home lifts and good lifts. Our most popular lifts include the Optimum 100 Enclosed Platform Lift and the Optimum 200 Stair lift.