Enclosed Lifts
The Optimum 400 platform lift is a self-supporting and highly reliable hydraulic enclosed lift, especially made for external use with a complete glazed or solid panel structure. These units are compliant with building regulations. We are also pleased to offer adjacent entry if required.
Request a Quote
Standard Features
Options
Gallery
Our Service
Standard Features
Three standard platform sizes
Single piece self-closing doors
Half-Height gates at upper level up to 3m travel
Full-height doors at upper level above 3m travel
24v DC controls
Arrival Chimes
Platform/Carriage Lighting
Emergency battery lowering
7000mm travel
0.08m/sec travel speed
400kg SWL
Fully panelled shaft walls
In car overload
Platform rated load 400kg
Travel distance up to 7 metres
Travel speed 0.08 metres/second
Power supply 240v, single phase, 50Hz
What's a platform lift?
A platform lift is a horizontal platform that raises or lowers a wheelchair, in order to help increase accessibility by overcoming the barrier of height.
Platform lifts can be installed internally, to help increase mobility between floors or externally to provide access to the inside of a building – whether it be a first or second floor.
Lifts with a self-supporting glazed structure are specifically designed for wheelchair users to move upwards and downwards across a greater height distance.
Why choose the Optimum 400 Hydraulic Platform Lift?
Choose your size – Our platform lift comes in a three different sizes; small: 1250x900mm, medium: 1400x900mm and large: 1400x1100mm) to suit a wide range of building requirements and spaces.
7 Metre travel distance – With an overall travel distance of up to seven metres, this lift provides access for those with low mobility to other floors.
Emergency battery lowering
Warranty
Colour choice – Choose from a range of colours to suit the appearance of your building.
Specifically designed for external use but can be installed internally.
Not quite what you're looking for? Try our Lift Finder tool here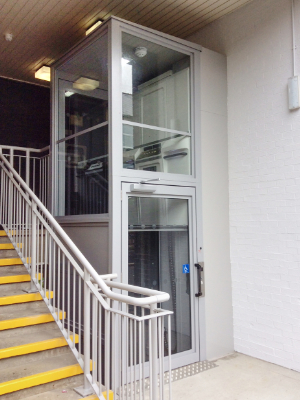 Options
Platform sizes
1400mm x 1100mm
1400mm x 900mm
1250mm x 900mm
Footprint sizes
1550mm x 1320mm
1550mm x 1120mm
1400mm x 1120mm
Pit Depth 85mm or ramp can be specified
Headroom 2300mm minimum headroom required
Our Service
Here at Ability Lifts, we don't only aim to supply our customers with high-quality lifts that are tailored to their particular building, but we pride ourselves in offering the best service alongside this product. This service includes; delivery, installation, engineering, servicing, and around the clock advice.
Delivery – We will deliver on time to suit the agreed program. Our delivery vehicles are equipped with all of the necessary equipment, so as not to involve you with additional labour.
Installation – All of our installation teams are certified to the required safety standards. They work alongside other trades, are fully qualified, and carry the necessary certification cards.
Engineering – We have trained engineers who understand the problems experienced by the developer, and work with them to ensure our product will meet their requirements. The specification is a joint effort to achieve the optimum installation with the least disruption possible.
Servicing – Once the unit is installed, it needs looking after. We have nationwide service available and welcome the opportunity of looking after your platform lift.
Please contact us to discuss your requirements. Alternatively, if this is not quite what you're looking for – use our lift finder tool here.