Goods Lifts
The Optimum 2000 Goods Lift is a high quality, reliable, chain driven vertical platform lift that is supplied and installed complete with its own small footprint enclosure. Now with a 36 month warranty on all major drive components! Available in several size options, our goods lifts are easy to install, requiring little in the way of building work. The self-supporting goods lifts come with an array of features as standard and provide excellent value for money.
Request a Quote
Standard Features
Options
Installation
Gallery
Standard Features
This is a self-supporting goods lift suitable for many applications in retail and warehouse environments. Installation costs are kept to a minimum ensuring excellent value with a low ownership cost. The unit is compliant with Part M of the Building Regulations and has the following features as standard:
Code Compliance – MD 2006/42/EC
Testing – Fully load tested and CE marked
Maximum Travel – Up to 15m
Floors served – Up to 6
Entrance Door – On three sides with either hand hinging
Platform Size – 1120mm wide x 1480mm long
Footprint – 1250mm wide x 1560mm long
Floor Recess – 60mm
Enclosure – Modular self supporting
Drive System – Guided Chain
Speed – 0.15m/s
Warranty – 3 years on major parts
Capacity – 500kg
Finish – Hard wearing powder coat RAL 9010
Power Supply – 240v (single phase, 16 amp)
Recommended use – secure and evenly distributed loads
Controls – call and send at landings
Not quite what you're looking for? Try our Lift Finder tool here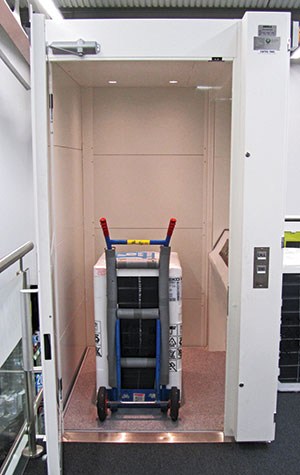 Available Sizes
| | |
| --- | --- |
| Platform Size | Vertical Hole |
| 1020×1480 | 1180×1590 |
| 1020×1680 | 1180×1790 |
| 1120×1480 (standard size) | 1280×1590 |
| 1120×1680 | 1280×1790 |
| 1220×1480 | 1380×1590 |
| 1220×1680 | 1380×1790 |
Installation of the Optimum 2000 Goods Lift
The Optimum 2000 Goods Lift requires little in the way of building works with a 60mm deep pit, a 1600mm x 1300mm vertical hole through the building and a 16 amp power supply to the top floor being the only necessities for most installations to be carried out.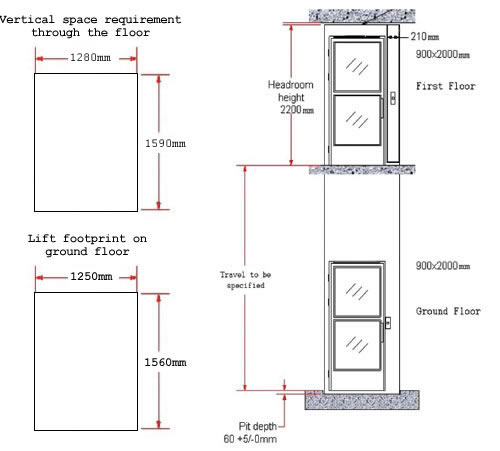 Platform Lifts For Goods
Our platform lifts for goods are mostly found in industrial and commercial settings. They are best suited to secure loads, with an even weight distribution and they are able to carry a maximum of 500kg. Driven by a guided chain, they can service up to 6 floors, or 15 metres, with ease. 
Due to the sometimes unpredictable nature of heavy loads, a safe transportation speed of 0.15 m / second is in place. These lifts are available in 6 different sizes.
The installation process is uncomplicated, with minimal building work usually required. Call or email us to find out more.