Wheelchair Stair Lifts
The Optimum 200 is one of the best quality wheelchair stair lifts available and is suitable for both internal and external use. Available for both straight or curved stairways, our wheelchair stairlifts can be adapted for smaller areas, if space is limited. Designed for ease of use, the wheelchair stairlifts from Ability Lifts aim to make some aspects of life a little less challenging.
Request a Quote

Standard Features
Options
Installation
Gallery
Downloads
Case Studies
Standard Features
The unit is supplied with a platform compatible with Part M of the Building Regulations, although smaller platforms are available should space be a dictating factor. The Optimum 200 is probably the slimmest on the market, whilst also aesthetically pleasing and very reliable. The wheelchair stair lift has been designed to transport the occupant in comfort along a straight or curved path.
The Optimum 200 is a well established design which has proven reliability for the carrying of various designs of wheelchairs and their occupants, to a maximum capacity of 300kg. This unit is compliant with the Machinery Directive and BS6440.
Now with 3 year warranty (excluding batteries)
Optimum 200 Wheelchair stair lift includes:
1250mm x 800mm platform (Part M compliant)
Stainless steel rails – upper one can be used as handrail
300kg capacity
0.11 metres/sec travel speed
Dimension of 250mm from wall when folded
Wireless wall mounted landing pushes
Barrier arms fold down when parked
Operates from battery in the event of power failure
Powder coated in RAL9006
Now with 3 year warranty (excluding batteries)
Video of the Optimum 200 in action
Not quite what you're looking for? Try our Lift Finder tool here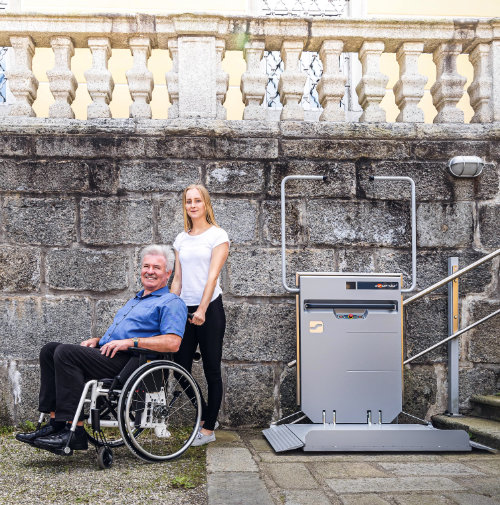 Options of the Optimum 200
Unique 3rd safety arm to prevent wheelchair overrun
Rail mounted push boxes
Stainless steel carriage cover, barrier arms and floor
Range of RAL colours
Stanchion mounting (requires extra space of 60mm)
Fold down seat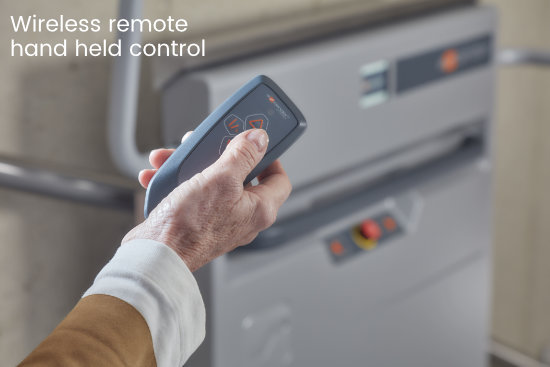 Installation of the Optimum 200
Installation of the Optimum 200 wheelchair stair lift usually takes about one day and the unit would normally be attached to a load-bearing wall. We can however mount the unit on floor mounted stanchions (optional extra) should a structural wall not be available, providing that the floors are of a solid construction. A standard 240V power supply is necessary at the top or bottom level to allow installation.
Dimensions of the Optimum 200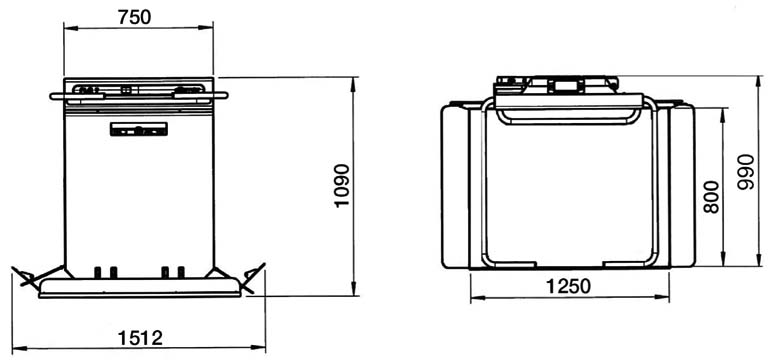 Exterior Wheelchair Stair Lifts
Our Optimum 200 exterior wheelchair stairlifts offer easy access into buildings accessed by external steps. They are just as useful on pathways separated by steps, such as country parks and outdoor recreation areas.
Weatherproofed with a high quality powder coating, these lifts come with the added benefit of a 3 year warranty (excluding batteries). The stainless steel rails offer added security. The robust design allows the safe and secure carriage of up to 300 kg.
Requiring only a 240 v power supply, these lifts can be installed in as little as one day, providing the necessary supporting structures are in place.
Email us at [email protected] to request an enquiry today or if you have any queries.
Frequently Asked Questions
Can an electric wheelchair be transported with the platform stair lift ?

On straight stairs the lift can be mounted on both sides. For staircases with curves, the incline stair lift would operation around the inside curve.

On which side of a staircase is the platform stairlift installed?

On straight stairs the lift can be mounted on both sides. For staircases with curves, the incline stair lift would operation around the inside curve.

How much does a platform lift cost?

Unfortunately, this question cannot be answered in a general way. The cost of a platform lift always depends on various factors: Is it a straight or a curved staircase? Is wall mounting possible or must/should the platform be mounted on supports? Is a special construction required due to the installation situation? Would you like to order the lift in your preferred colour? As you can see, many factors influence the price of the platform lift. Let us know what specific ideas you have and what the lift should look like.

Can stairlifts be used outdoors ?

Yes, the use of weatherproof components ensures reliable operation even outdoors. A rain cover provides additional protection from the weather when not in regular use.

Is the platform lift also available for curved stairs?

Yes, the incline stair lift can be installed on both curved and straight stairs. The decisive factor in both cases is the specific space available. You are welcome to contact us to clarify the installation situation.

How is the lift controlled?

The lift is controlled either via the operating elements directly on the lift or via a radio hand-held transmitter that you can conveniently put in your pocket. We recommend this form of control especially in private areas. In public areas, the installation of radio wall buttons at the individual stops is advantageous. They can be used to call the lift to the desired stop. The wall switches can be locked and thus protect against unauthorised use.

Can the platform lift also be used without a wheelchair?

Of course, this is possible. In many cases, especially in public areas, it even makes sense to install a platform lift with an integrated folding seat. This way, even people with walking difficulties without a wheelchair have the option of using the lift instead of the stairs.

From what width of stairs can a platform stairlift be installed?

If a straight roadway is sufficient, the clear staircase width must be at least 1000mm. A minimum width of 1100mm is required for curved roadways.

How long is the delivery time for a stairlift?

As each stairlift is custom made exactly for the staircase, it is not a stock item. In general the period from drawing approval and deposit payment to installation is approx. 6 / 8 weeks.

Does the platform stair lift also work in the event of a power failure?

Yes, the integrated batteries mean that the lift can continue to be used for a limited number of trips even in the event of a power failure. The batteries are automatically recharged in the end positions.