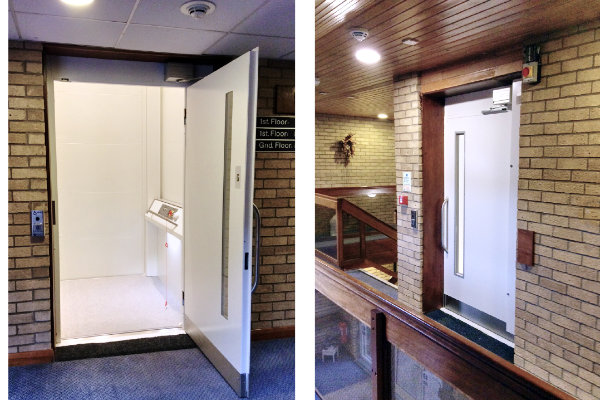 The Orchards Wyberton, Sheltered Housing gets a Platform Lift
The Orchards is a warden controlled sheltered housing establishment in Lincolnshire run by local charity Boston Mayflower. It offers a secure environment with 24 hour support available for people wanting extra support to maintain their independence as they age.
The building already had an old hydraulic lift in place and Ability Lifts were contacted to offer expert advice and guidance, given the close working relationship with the charity established over several years, having previously installed lifts in other care homes in Lincolnshire for them. The Optimum 100 platform lift was recommended, as the large platform size of 1220mm x 1680mm gives maximum space for the occupants whilst still retaining a shaft size of just 1380mm x 1790mm, meaning that the existing shaft opening could be utilised.
Upon approval of this solution, the lift was supplied with automatic openers and wireless remote landing call stations. This enables wheelchair users to call the lift to the landing and have the doors open automatically without being in front of the opening doors, whilst the wireless call buttons enables easy positioning of the call button without having to drill or use conduit.
The lift was installed with larger one metre wide fire doors to aid access, and as the client wanted to maintain use of the lift even during a power cut, a UPS was supplied, along with the standard battery emergency lowering. The lift even has a fire park facility which drives the lift to a designated floor and parks so that it can not be used during a fire evacuation.
Working with the appointed building contractors, Ability Lifts fitted the new lift in just two days, minimizing any inconvenience to the residents.
Following the installation, the client added a warden control system in case of an emergency whilst using the lift. Just a few weeks later, a further lift to the same specification was installed at D'Enycourt care home in Kirton for the same client.
To find out more about the Optimum 100 Platform Lift and other products in the range, please visit www.abilitylifts.co.uk or call our dedicated sales line on 0292 168 3207.