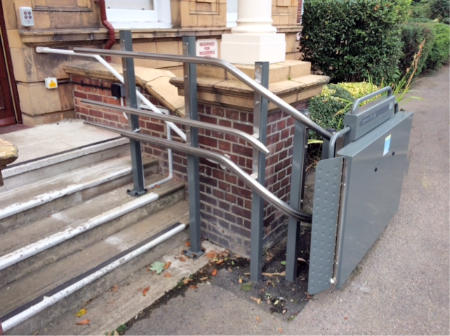 Stair Platform Lift for Metropole Court in Folkestone
Metropole Court is an imposing Grade II listed Edwardian Building located on the famous Leas promenade offering fantastic sea views from many of the 2/3 bedroom apartments. This building is believed to be one of the first iron structures to be built in England.
Pedestrian access was by steps at the front and rear of the building, which were unsuitable for wheelchair access. Due to this, Ability Lifts Ltd were approached to review the possibility of providing access for residents to the front steps of the building by way of installing a platform lift.
This project had a number of challenging issues due to the Grade II listing, the design of the existing staircase and the restricted space to land the platform onto the tarmac path. After inspection, Ability Lifts recommended the Optimum 200 Curved Inclined Stair Platform Lift as the best solution to overcome these difficulties and have minimal impact on the existing building.
The Optimum 200c was supplied and installed with a compliant platform size of 1250mm x 800mm, 300kg load capacity, an optional folding seat on the platform, 90 deg bend at the lower level and floor mounted stanchions as there wasn't an adjacent structural wall.
To enable the lift to fit within the available space and provide suitable wheelchair access into the building then several adaptations were necessary, this included the reconstruction of the steps, plus local strengthening of the lower level with a concrete pad for fixing the floor mounted stanchions.
If you have a similar project or would be interested in any products from our range of platform lifts which can be viewed from our website www.abilitylifts.co.uk then please contact us by e-mail [email protected] or by phone on 0292 168 3207.