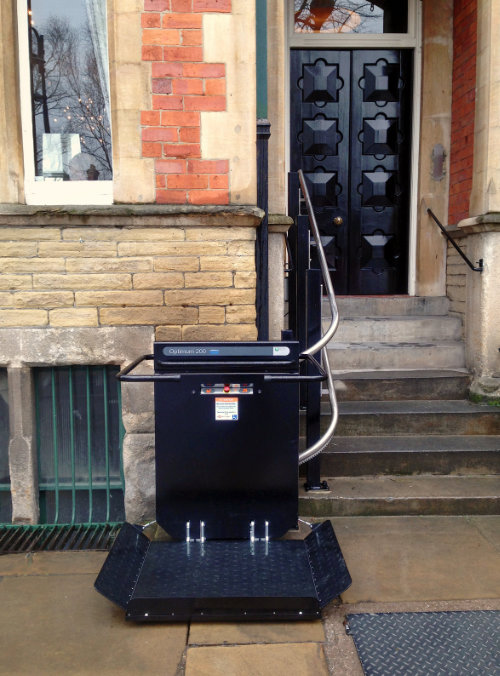 Stair Platform Lift for Dean Court Hotel in York
Overlooking the iconic York Minster, the Dean Court Hotel is a historic building with 40 unique bedrooms individually designed with charm and personality.
General manager, Simon Murphy initially contacted Ability Lifts to look at the possibility of providing a platform lift at the front of the building to enable wheelchair users to negotiate a flight of seven steps. After an initial survey, the Optimum 200 stair platform lift was chosen due to its sleek design when folded and the guard arms fold down when not in use.
The lift was specified with a 90 degree bend at the lower level so that it could park out of the way and not hinder people that would walk by the hotel building. As the unit uses clean rail technology, the top stainless steel handrail doubles as a handrail for those walking up the stairs.
As the building is listed and in a conservation area, the lift was finished in a black colour in order to match the aesthetic of the building and give a seamless look. The 800mm x 700mm platform was the best fit for this project, and has an ample lifting capacity of 300Kg.
Mr Simon Murphy commented "from the initial exploratory phone call to Ability Lifts to the final fitting of our new platform lift I was extremely impressed with all aspects of the service we received. Overall a very professional company in all areas, and I would certainly have no hesitation in using this company again or recommending them".
If you would like any further information on the Optimum 200 Stair platform lift or to get advice from one of our lift experts, then please contact the Ability Lifts team on 0292 168 3207 or visit the website at www.abilitylifts.co.uk.