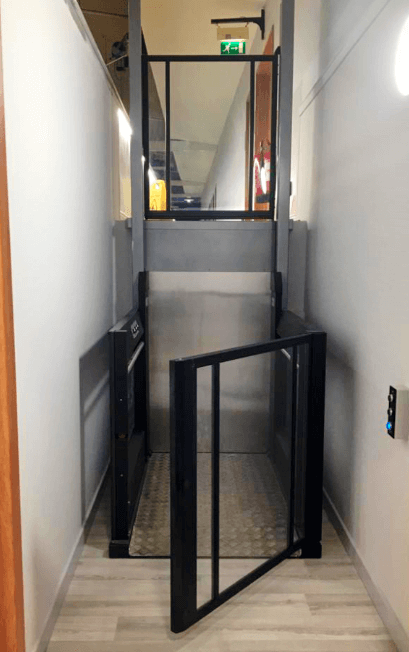 Platform lift enables access to the EIS, Sheffield
Located just over a mile North East of Sheffield City Centre is the English Institute of Sport. It is the largest multi-sport centre in the UK with 2 sports halls, as well as halls for table tennis, netball, basketball and an athletics arena! The world class facilities are home to many local and national sporting clubs, and accessibility is essential to provide this service for everyone.
Ability Lifts were contacted by Castle Building Services (South Yorkshire) Limited to see if they could offer a solution for disabled access between the first floor, and upper level of the building. After a site survey, they recommended their hydraulic Optimum 320 Open style platform lift, which was chosen as the ideal solution, as it's compact dimensions enabled the lift to fit in a footprint of just 1400mm x 1600mm.
The lift was supplied with a black carriage and contrasting silver guides. The chequer plate flooring of the carriage includes an integral ramp in order to maximise space.
The main challenge for the Ability Lifts installer was that the upper landing threshold was constructed of a composite concrete floor with a steel beam support. In order to securely install the lift a special threshold trim plate was utilised that allowed the fixings to be positioned into the steel support.
A lifting capacity of 500Kg matched with a platform size of 900mm x 1400mm ensures even the heaviest electric powered wheelchairs can make use of the lift. The lower call button is mounted on the adjacent wall and the upper level call button is attached to the lift itself to maximise ease of use.
With a full 12 month guarantee, the lift will offer access for users of the sport centre long into the future.
Please contact the Ability Lifts team on 0204 571 3357 or email [email protected] for further information on the Optimum 320 and the other products in the Optimum range of lifts.