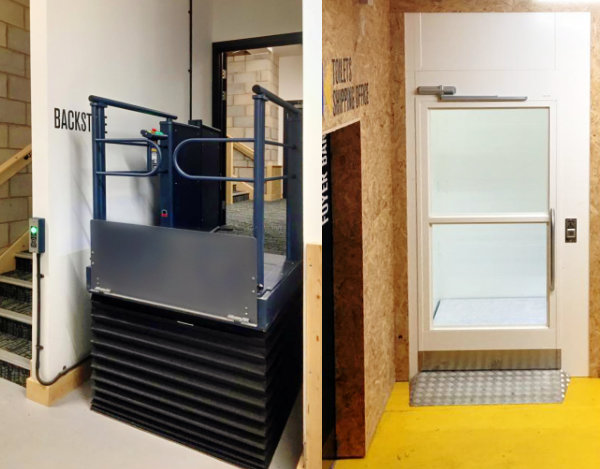 Platform Lift double for The Box, Fargo Village
Located just to the east of Coventry's city centre lies FarGo Village, a re-purposed industrial space exclusively designed for creative, independent businesses and their customers. Over 40 businesses call this place home, including artisan food, a music studio and a designer plant pot shop!
A part of this eclectic mix of businesses, is The Box, a multi-purpose venue with over 420 square metres of floorspace, hosting events such as corporate functions, fashion shows and film shoots. Accessibility for all users was a core requirement for this space, and Harrabin Construction Limited of Coventry contacted the lift experts at Ability Lifts for their advice on access.
Two lifts were required for The Box. The first lift was to overcome a 765mm rise into the backstage area. Ability Lifts were able to recommend and fit their Optimum 350 low rise unit. Due to the limited width, an 800mm platform unit with an open through configuration was chosen as the perfect solution. A steel infill gate was used at the top level and a travelling barrier was specified for additional safety. A dark blue colour was specified for the lift, which worked well with the industrial aesthetic of the space.
The second lift was required for the access between the ground and first floor. The Optimum 100 platform lift was a great fit to serve just over 3 metres of travel. Glazed doors with a mid bar were chosen for lift access as the client wanted to keep as much light as possible circulating in the area. In addition, the lift was supplied with a small aluminium ramp at the lower level in leiu of the 60mm usual pit. Both lifts were supplied with 12 month service contracts for additional piece of mind
Please contact the Ability Lifts team on 0114 352 1133 or email [email protected] for further information on the Optimum 100 or 350 and the other products in the Optimum range of lifts.