Portable Platform Lifts
The Optimum 1000 Portable Platform Lift is perfect for those uncooperative access situations. The beauty of these portable platform lifts is that they can be moved into various positions, to find the perfect accessibility solution for any space. If co-ordinating with the surroundings is important, you're in luck. These portable platform lifts can be matched to your environment. We don't compromise on safety either. With the option to add safety access ramps our portable platform lifts are guaranteed to offer a safe and steady arrival.
Request a Quote
Standard Features
Options
Installation
Our Service
Why choose the Optimum 1000 Portable Platform Lift?
Easily transported
This particular lift weighs 53kg, meaning it can be easily transported into any position – perfect for buildings with multiple restricted access points.
Choose from a range of colours
Choose from a range / special RAL colours to personalise your lift – to make sure it suits your establishment. Contact us to discuss further options.
Safety Features
Side access on upper and lower levels is available on both sides. There is also an option to fit a safety access ramp to the leading edge, whilst lift is in use, to restrain wheelchairs.
A range of options and special RAL colours are available, please call us to discuss your requirements in more detail. Auto-folding ramp (pictured), available as an optional extra.
Not quite what you're looking for? Try our Lift Finder tool here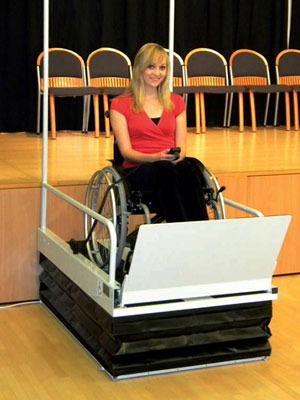 Optimum 1000 Options
Different RAL colours available
External use
Side access
Safety bar at top level
Vertical pillar for platform controls
Gate for upper landing
External controls with key switch
Transport wheel assembly
External or internal installation
With the option of installing this platform lift internally or externally – you're guaranteed complete control on where to install it, in order to suit your space limitations. The Optimum 1000 portable lift is ideal for corporate events, schools and stages.
Unit 1

Unit 2

Max. Lifting height

595mm

830mm

Loading Capacity

180kg

300kg

Lifting Speed

10mm/s

10mm/s

Min, height

100mm

120mm

Weight

52.5kg

71.5kg

Power supply

24V via transformer
230V power supply

Internal length

1170mm

1495mm

Internal width

710mm

765mm

External length

1180mm

1505mm

External width

810mm

890mm
Our Service
Here at Ability Lifts, we don't only aim to supply our customers with high-quality lifts that are tailored to their particular building, but we pride ourselves in offering the best service alongside this product. This service includes; delivery, installation, engineering, servicing, and around the clock advice.
Delivery – We will deliver on time to suit the agreed program. Our delivery vehicles are equipped with all of the necessary equipment, so as not to involve you with additional labour.
Installation – All of our installation teams are certified to the required safety standards. They work alongside other trades, are fully qualified, and carry the necessary certification cards.
Engineering – We have trained engineers who understand the problems experienced by the developer, and work with them to ensure our product will meet their requirements. The specification is a joint effort to achieve the optimum installation with the least disruption possible.
Servicing – Once the unit is installed, it needs looking after. We have nationwide service available and welcome the opportunity of looking after your platform lift.
Are you interested in installing a platform lift? Please contact us to discuss the best options to suit your requirements. Alternatively, feel free to use our lift finder tool if the Optimum 1000 platform lift isn't quite what you're looking for.
What is a platform lift?
Platform lifts have been designed to provide vertical access, where previously restricted, for disabled users – e.g. staircases.
They are mainly used to provide access in domestic, commercial and public places, whether this is between one or two floors or providing access into the entrance of a store externally.
Many platform lifts can be used internally or externally and can be fitted in an enclosed or open space – dependent upon customer requirements.
Portable Wheelchair Platform Lifts
These versatile portable wheelchair platform lifts can be easily adapted to suit a range of uses and situations. Yes, it's a portable lift; but it also comes with multiple access options. There is the added benefit of being able to include a safety access ramp which helps secure wheelchairs as they are being transported.
A choice of colours, to help personalise your lift, will ensure it compliments the surrounding area. Another major advantage is the lightweight structure, which allows it to be moved with ease, from place to place. This makes it perfect for buildings with more than one restricted access point. Schools, corporate events and recreation areas find these lifts particularly useful.
Find out more about our products and services today via email or phone.