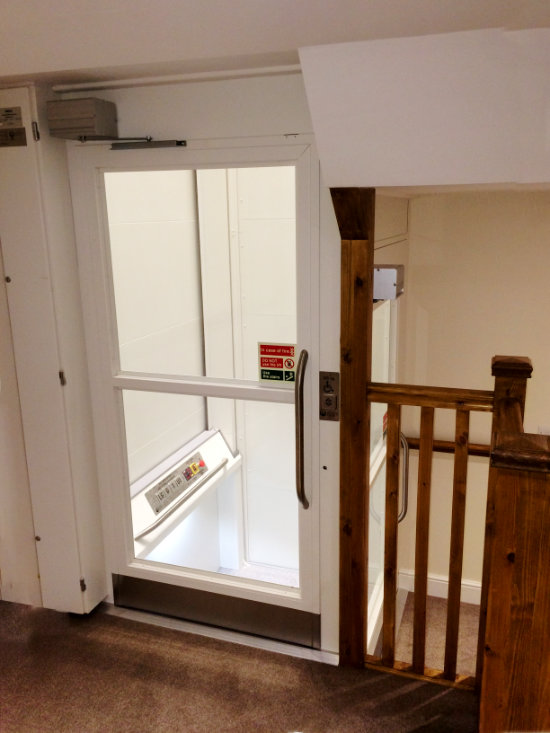 New Platform Lift for Care Home
Little Brook House is a private residential care home in Southampton for those who live with dementia and memory loss. The home is a beautiful 17th Century Grade II listed building containing individual bedrooms with en-suite, plus large communal lounge, dining room and conservatories.
It recently underwent building works by BSP Projects LTD to create a new extension to provide an additional five bedrooms, requiring a four stop lift to link the existing building with the new. Ability Lifts were invited to tender for this platform lift, and were chosen due to their excellent technical advice and installation expertise.
There were some challenges to fitting a lift in the building including certain headroom constraints and the need to access the lift on two sides, as well as the aesthetic challenge of blending the new with the old. The Optimum 100 platform lift was chosen as the ideal solution for this project and Ability Lifts visited the site twice due to the complexities of the lift installation.  Their Operations Manager assisted with the drawing approval process as the Optimum 100 lift was customised to fit.
The lift was supplied with automatic doors and a part M compliant platform size of 1120mm x 1480mm. Doors were placed on two sides of the shaft serving four floors and a reduced height (1900mm) door at the top landing due to the headroom restrictions.
The Manager at Little Brook House was delighted with the new lift and commented "Ability Lifts attended the site and explained the restricted access issues so that our builders had one less thing to worry about. The new lift replaces old stair lifts, and looks great within our newly refurbished link which mixes old and new, offering access to all four different floor levels. All 25 bedrooms can now be accessed using our new lift, our new 'All Mod Cons' care home is truly fit for the 21st century!"
To find out more about the Optimum 100 Platform Lift and other products in the range, please visit www.abilitylifts.co.uk or call our dedicated sales line on 0151 808 1581.