Enclosed Vertical Platform Lift – Optimum 100s from Ability Lifts
The Optimum 100c enclosed platform lift is a high quality, reliable, chain driven vertical platform lift that is supplied complete with its own small footprint enclosure. This enclosed platform lift now comes with a warranty of 12 months parts and labour, 5 years on motor and gearbox and 10 years on drive chains. This is a self-supporting enclosed platform lift which will enhance the value of any building. Installation costs on our enclosed platform lifts are kept to a minimum. This allows us to provide excellent value, with a low ownership cost. This enclosed platform lift prioritises both safety and aesthetics, allowing it to fit seamlessly into the surroundings, without compromising on quality.
Request a Quote

Standard Features
Options
Installation
Standard Features
The unit is compliant with Part M of the Building Regulations and has the following features as standard:
Energy saving LED lighting in ceiling
410kg / 5 persons capacity
Standard platform size of 1100mm wide X 1480mm long
Landing doors 900mm wide X 2000mm high (Alternative special size are available)
Hidden door closers
One touch call button on each landing
Emergency battery lowering with battery guard facility
Controller integral within enclosure
240v frequency drive operation
Manual doors with self closers
Constant pressure tactile pushes
Lift Colour
Our Optimum 100s platform lift can be painted in any RAL colour from standard range.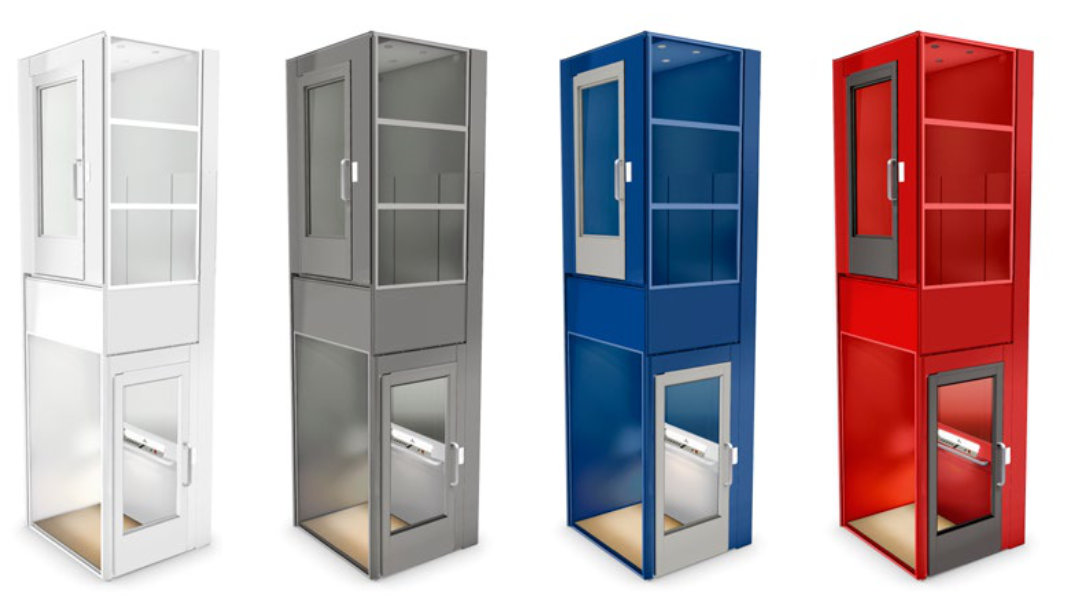 Standard:
Whole lift painted in standard colour RAL 9016 (Traffic white)
Full colour option:
Whole lift finished in optional colour (Incl. shaft, doors and the panels under the destination panel.)
Lift partially painted in different colours:
Lift walls/Shaft in one colour.
All door blades in one colour.
All door frames in one colour.
Panels under the destination panel in one colour.
One of the above choices or a combination of them.
Common Colour Chart: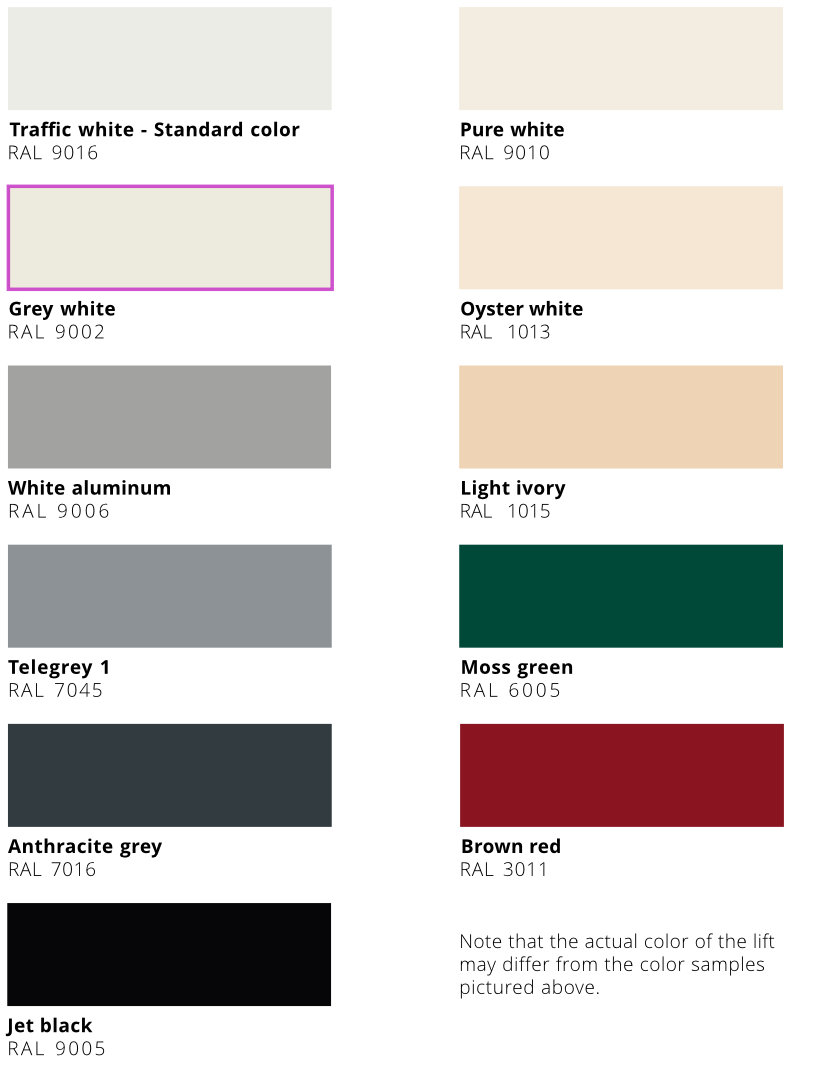 Common colours are at an additional cost to the standard RAL 9016.
Lift Platform
The standard platform is delivered with a half-height wall including destination panel.
Panels under the control panel are painted in RAL 9016 (white) as standard, but can be painted in any RAL colour as an option.
Full Height Wall
As an option the platform can be delivered with a full height wall 2100mm high with a mirror and integrated LED lighting. The full height wall is finished in RAL 9016 as standard, but can be painted in any standard RAL colour as an option.
The full height wall is available on platforms of 1480mm long.
The full height wall is not available for door heights of less than 2000mm or a half height gate.
Flooring:
Choose between the following options for vinyl, rubber and aluminum floorings. It is also possible to order the lift without a floor covering, which enables you to fit your own floor with a maximum of 3mm thickness.
Note that aluminum flooring is not available for platform size 900 x 1040mm.
Control Panel:
The control panel is delivered with a light box, with an acrylic glass that is lit with LED light. The destination buttons, emergency stop button, alarm button, maximum weight and number of persons are all located on the control panel. Options such as auto dialler and landing directors can also be located on the control panel if required. Parts around the light box and aluminium panel are painted in grey, which give the impression of aluminium.
The standard designation buttons are 32mm diameter and come with braille as standard. As an additional option the designation button can be increased to an extra-large 50mm diameter to provide enhanced accessibility.
Door Control:
The door control is either placed on the door frame of each landing door and/or remote from the lift for external control.
Door control on door frame
Door control placed on the door frame of the lift.
For our platform lift there is always a place on the door frame for the faceplate.
Call button
The call button comes with a background lit frame which indicates the status of the lift.
Green light indicates that the lift is at your floor.
Lit only on the floor where the platform is at the moment.
Red light indicates that the lift is occupied.
The flashing light indicates that the safety circuit is broken, e.g. that the emergency button is pressed, the door is open on another floor for more than one minute, the door is blocked or the safety bar is pressed down. The flashing light can also be activated by a smoke alarm, more information is then available in the service memory.
The same call button is used when the door control is placed on the door frame, remotely or as a radio controlled call button.
Not quite what you're looking for? Try our Lift Finder tool here
This vertical platform lift has available the following options:
Mixing of glazed and solid panels
1 Hour fire rated landing door and frame
Intelligent automatic doors
Emergency autodialler or intercom
Installation of the Optimum 100s
The Optimum 100s has been designed with a minimum of builder work requirements to make installation as simple as possible. The platform can be supplied with a ramp at ground floor level or set into a 50mm recess below the finish floor level. A clear opening of 1505mm wide X 1630mm deep is all of the installation space need through the shaft area to allow us to install the Optimum 100s. Headroom is also minimised with a standard requirement of only 2240mm above the upper landing level. For installation with a floor to floor of less than 3000mm, there is also the option for a upper landing gate finishing at 1100mm above the upper landing.